Watch this space as we share with you the highlights of our training grounds for our regular weekly sessions!
The Towerrunning Association of Singapore holds regular training sessions for members every Saturday at 10:00am. For more information on our training sessions click here.
Our training calendar for the beginning of 2023 is packed with interesting venues, which we will showcase on this page. To keep things interesting, we will move to a new training venue each month, and sometimes two places in one month. Our training schedule for the first half of the year looks like this:
January: CityVue@Henderson 
February: Tao Payoh Central 
March: Pinnacle@The Duxton 
Apr: Forfar Heights,  Queenstown
May: CityVue@Henderson 
Jun: please note there will be no practice on June 3, 2023 due to Sunday's National Vertical Marathon competition. We will start June practice on June 10th. Venue will be St. George's Tower.
July: Skyville@Dawson. Please note that there will be no practice on July 29 due to the Vertical Challenge at SkyResidence @ Dawson on that day. For those interested in the race here is the link: https://www.activesgcircle.gov.sg/getactive-singapore/pesta-sukan/signature-events/vertical-challenge
August: Toa Payoh Crest
September: We will be training at a special high rise condo near Raffles MRT for the month of September, please refer to the WhatsApp group chat for more information. This will be an excellent place to train in preparation for the many upcoming tall races later in the year including KL Towerthon in October.
The training venue for September 2023 will be 70 story condo near Raffles MRT, members please refer to the group chat for more details. Training will be the usual time at Saturday 10:00am.
Let's have a look at past training venues starting with:
Toa Payoh Crest
Located along the perimeter of its satellite town, Toa Payoh Crest is a HDB precinct with 4 blocks of 40-floors towers. It is bounded by the streets of Toa Payoh Lorong 1 and Toa Payoh Rise.
Where is it?
Lorong 1 Toa Payoh. Blocks 130A, 130B, 131A and 131B.
Getting there
Toa Payoh Crest is about a 10-minute walk from 2 nearby MRT stations, Caldecott (CCL) and Bradell (NSL).
What to expect
4 blocks, 2 staircases per block with a top floor on the 40th fl.
Most of the stairs in this precinct are left turning. If you are looking to train on a right turning, there are 3 stairs you can use. Head straight to Block 131B where both stairs A and B turn clockwise.
The other right turning staircase could be found at Block 131A Stairs B.
Views from the top
Depending on which block you are at, you can get a bird's eye view of the Toa Payoh estate or almost picturesque view of the MacRitchie Reservoir.
You can catch a glimpse of the city skyline from afar as well.
Fun fact
Both Block 130A and 131A each has a mezzanine floor 1M.
Typically, in a HDB block, there are 16 steps between each floor. With a higher ceiling on the 1st floor, it is usually 20 to 22 steps up to the 2nd floor. The mezzanine floor here between 1st floor and 2nd floor would add 20 more steps more to your mileage – a delight for those who crave bonus steps.
Other amenities nearby
There is a vending machine at Block 130 in case you need to replenish your hydration supplies.
Just across the main road, there are 3 coffeeshops and the Toa Payoh Lorong 1 market / food centre to reward yourself a hearty meal after conquering the 40-floors blocks. Without a doubt, this is where we headed for an early lunch after our training climbs these past Saturdays!
---
Here are some venues for our previous climbs starting with Skyville@Dawson
We return to one of our favorite climbs, the magnificent Skyville@Dawson. The legendary rooftop garden alone is worth the 47 floor climb, what more can we say? The stairs here will provide good preparation for those entering the race at SkyResidence on July 29, which also happens to be 47 floors and a short distance away.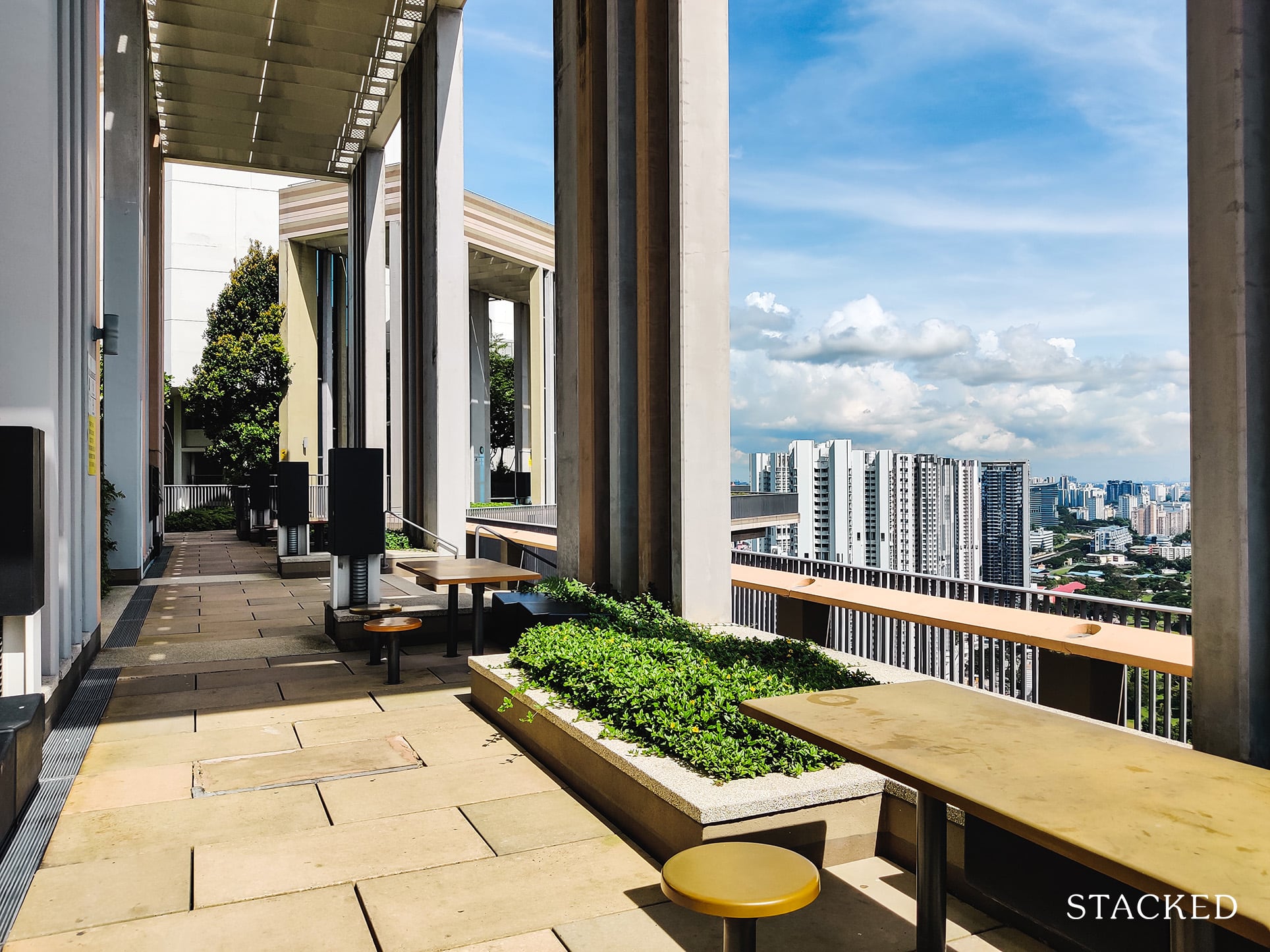 Skyville @ Dawson
86 Dawson Rd, Singapore 141086
St. George's Tower:
St. George's Tower
The phrase 'good things come in small packages' certainly rings true with this estate. St Georges Towers is the shortest group of towers in our training venues, but its incredible views and charming location along Whampoa River make it a highlight none the less. One of our members found this hidden gem while exploring the area and we're delighted she did.
One of the great things about St George Towers is its convenient location on the Park Connector Network, a series of pedestrian and cycling trails developed by the National Parks Board. The estate is located directly on the Whampoa Park Connector which makes it easy to access on foot or by bicycle. Onsite parking, bus stops, and the Boon Keng MRT station are also nearby. The towers are near the confluence of the Whampoa and Kallang Rivers, and at this location, there is also a pedestrian bridge linking to the Kallang Park connector.
St Georges Towers consists of three towers. Block 25A has two left-turning staircases, both 34 floors in height. Block 26A has two right-turning staircases that are 32 floors in height, and block 26B has both a left and a right-turning staircase that ascend 32 floors. A unique feature of this HDB BTO are its sky gardens tucked away two-thirds of the way up the building. If you're feeling hungry after the climb, there's a renowned coffee shop just across St George's Road that serves up a delicious handmade fishball noodle and mee pok. If you're looking for other dishes, fear not, Bendemeer and Whampoa Markets are a short walk away.

At the top there are great views of the National Stadium and southern Islands, as well as one of the longest continuous HDB blocks. All these things add up to make St. George's Towers a must climb on the Singapore towerrunning map. We'll be training here every Saturday during February before visiting two towerrunning icons in March.
St George's Tower
26A St. George's Lane, Kallang, District 12, Central, 322026
---
For May, our training venue will be at the familiar CityVue@Henderson. This 48-floor HDB building is one of the tallest HDBs in Singapore and presents a good challenge for climbers. It features some unusual stairs, as the number of steps between landings is quite long at 16 steps. Usually, for normal HDBs, this number is 8 or 9. The upcoming National Vertical Marathon race on June 4 is at Guoco Tower, which also has an unusual staircase with many steps between landings. Therefore, we have chosen CityVue@Henderson to prepare towerrunners for the upcoming race.
Check out these beautiful towers, the view from the top is a good reward after a long climb!
Address:
95A Henderson Rd,
Singapore 151095
Come and join us for a climb at CityVue@Henderson on Saturdays at 10:00am for the month of May 2023… see you there
———————————————————————————–
In April, our climb practice was at Forfar Heights, Queenstown. It's probably a new practice ground for many of us. Fun fact: Back in 2021 during the lockdown period, Forfar Heights was part of our virtual challenge where we scaled 7 HDB tower blocks here that would be as good as 7 summits around the world.
The stairs would bring us to the top floor of 43 to enjoy some nice views first before our next round(s)
Also, the precinct is connected to Queenstown MRT station all the way via a sheltered walkway
Address:
53 Strathmore Avenue
Forfar Heights
Singapore 150043″